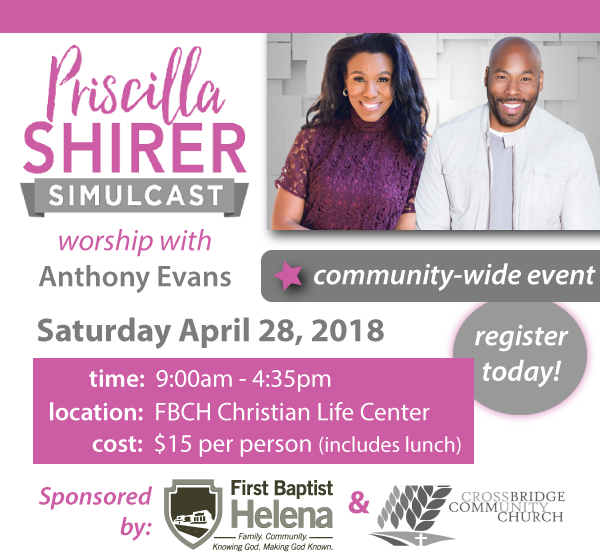 (make payable to First Baptist Church Helena)
Scroll to the bottom of this page to view the schedule for the day.
You are invited to join us for a simulcast with Bible teacher and best-selling author Priscilla Shirer. She will be broadcasting live on April 28, 2018, at 9:00 am. The Women's Ministries of First Baptist Church Helena and Crossbridge Community Church are excited to be co-sponsoring this event. The simulcast will be shown in the FBCH Christian Life Center. This is a community-wide event, so invite your friends!

The Priscilla Shirer Live simulcast will feature her dynamic storytelling and passionate Bible teaching. Priscilla has authored a number of published Bible studies, books and devotionals, specifically for women. Some of these include the LifeWay-published Bible studies; Armor of God, Gideon: Your Weakness. God's Strength, Jonah: Navigating a Life Interrupted, and Discerning the Voice of God. She also starred in the Christian film War Room, which has prompted many to deepen their relationship with God through prayer.

The event, which also features a unique prayer time, both challenges and encourages women to know God's Word and grow deeper in their faith.

Anthony Evans, who also happens to be Priscilla's younger brother, is slated to lead worship for the event. Evans is a popular Christian recording artist, and many fell in love when he was featured on NBC's reality show The Voice in 2012.
We are unable to provide childcare for this event.
Please make appropriate arrangements for personal childcare.


The registration cost
includes lunch.
Cost is $15 per person.


Doors open at 8:30 a.m.


First Baptist Church Helena - Christian Life Center
9:00 a.m. - Event Begins
9:30 a.m. - Prayer Experience
10:00 a.m. - Session One
11:15 a.m. - Ministry Opportunity
11:30 a.m. - Lunch Break
12:45 p.m. - Worship
1:15 a.m. - Prayer Experience
1:45 p.m. - Session Two
2:45 p.m. - Break
3:15 p.m. - Worship
3:30 p.m. - Session Three
4:30 p.m. - Closing Worship


4:35 p.m. - Event Concludes